THE MEN'S FASHION GUIDE: FIT
HOW IT SHOULD FIT - MEN'S SHORTS
"Shorts - Don't go to any lengths."
~E.J. Topper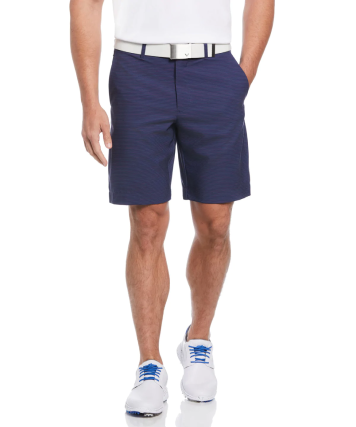 Topper encourages us not to abandon all notion of sartorial savvy when we select our shorts. He says: "Remember, shorts are still pants when all is said and done. They should fit and flatter as well as offering coolness and comfort." We agree.
When the longer days of summer arrive, many men look to their wardrobe for clothing to provide relief from the heat. Among the first items we reach for are our shorts. But the question on our lips ought to be "how long is short?" Remember, 'short' doesn't have to mean ultra short. Go too cut down and you can look like a 70's Harlem Globetrotter (which is great if you are a world class basketball player but may not be the exact image you were shooting for). Go too long, you lose proportion when it comes to height (and you risk the desert island castaway look).
So when it comes to shorts, length does matter and a few inches can make all the difference. Just how short should shorts be? As a rule of thumb, shorts should leave your knee visible or just covered when you stand upright - or in other words be from 1-2 inches above the knee to actually touching the knee.
In the case of very tall men with long legs, a longer rise makes the short flow better and look more natural. And in all cases, big and tall shorts from Westport Big and Tall will assure the ultimate combination of fashion and fit. Click below for how each aspect of a short's fit should be evaluated.