Pick one of the following fit issues to get Topper's thoughts on achieving the right fit:
THE MEN'S FASHION GUIDE: FIT
HOW IT SHOULD FIT - MEN'S PANTS
"If your pants don't fit, you shouldn't wear them...
On second thought, just wear pants that fit."
~E.J. Topper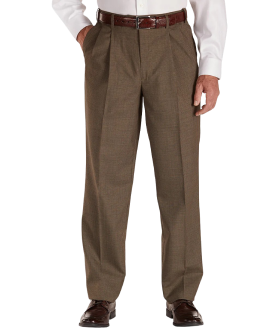 Unlike shirts, where many have sacrificed extra width for more length or vice-versa, the sizing of pants is a little more kind, offering distinctly different proportions for big and tall men, even if the sizes are often difficult to come by in department stores.
That hasn't stopped Topper from pointing out these several red flags to look out for when you're shopping, regardless of the size of the waist or the inseam. Click below for advice on how rise, seat, thighs, and waist should fit based on your body type.